Respondent Support Services
The University of New Mexico aims to create a safe learning environment for all students. Should a student be identified as a respondent  by Compliance Ethics and Equal Opportunity during an investigation, respondents are encouraged to contact the Dean of Students Office to enquire about Respondent Support Services.  The Dean of Students Office is located in the University Advisement and Enrichment Center, Room 281. The Dean of Students Office can be contacted at (505) 277-3361.
The key elements of the respondent support services include:
Attend meetings (investigative conversations, housing removal/relocation discussions, resolution agreement discussions, e.g.) as a support person
Review documents and materials from investigation, final report, and sanctioning decisions as requested
Manage academic, housing, access to dining facilities and interim safety measures as requested by respondent
Provide information and referral to university and community based resources for additional support needs.
Supporting and connecting respondents with on-campus and off-campus resources
Assist with Academic Supportive Measures*
Provide general support and a safe listening space**
The respondent support services cannot do the following:
Advocate on behalf a respondent
Be a confidential resource**
Confidential resources for respondents include UNM Student Health and Counseling (SHAC)
Provide Legal advice
Legal advice should be sought through an attorney
Provide responses for students when being addressed by Compliance Ethics and Equal Opportunity
Provide statements on behalf of students directed to Compliance Ethics and Equal Opportunity
* A note on Academic Support Measures: UNM Staff or faculty assisting a respondent cannot guarantee that academic support measures will be provided by instructors/faculty.
**A note on confidentiality: UNM Staff or faculty assisting a respondent cannot and should not guarantee confidentiality. If a respondent discloses relevant information pertaining to an investigation or a potential UNM policy violation, UNM Staff or faculty assisting a respondent will be obligated to report this information to Compliance Ethics and Equal Opportunity.
You can anticipate from a University Respondent Support Person that they:
Will treat respondent with respect, dignity, and sensitivity throughout the process as you seek services from a university advocate
Will consider all facts you share with them when providing you with appropriate resources and information
Seek to help respondent with a client-centered approach
Are not confidential/anonymous reporters, however will keep information provided as confidential as possible
Provides support before, during, and after an investigation
Explains university policy and procedures including supportive measures and safety measures
Connects respondent to campus and community resources
Helps to explain university vs. criminal procedures
Informs how to recognize and report retaliation for their involvement in the investigation
Contact the Dean of Students Office for information about Respondent Support Services and ask for Greg Golden.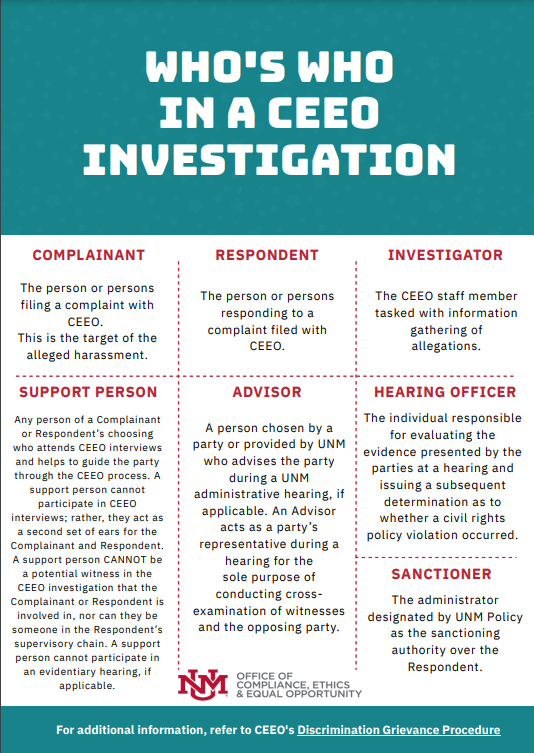 Helpful Resources
Compliance Ethics and Equal Opportunity process forms:
UNM Student Health and Counseling
Phone Numbers
Information & Medical Appointments

(505) 277-3136

Counseling Services

(505) 277-3136

After-Hours Crisis Counselor
for UNM Students

(505) 277-3136
Select Option 3

Pharmacy

(505) 277-6306

TTY

(505) 277-7926

Fax

(505) 277-2020

EMERGENCIES (Medical or Counseling)

911
UNM AGORA
505-277-3013
866-HELP-1-NM
800-273-TALK
(National Suicide Prevention Lifeline)